I morse begav vi oss till veterinären i Roslagstull med Mimmi som har haft en knöl under hakan. Efter bedömning blev resultatet att vi lämnade kvar henne för operation eller egentligen tömning av knölen som troligen är fylld med var och snart ska vi hämta henne igen. Förhoppningsvis är hon sedan av med knölen.
Boken 'Cold Vengeance' tog just slut och inte heller denna gång fick man reda på vad som egentligen hänt med Agent Aloysius Pendergasts fru och vad som ligger bakom alla hemskheter… Men det kommer en fortsättning som heter 'Two Graves' där allt ska avslöjas till slut.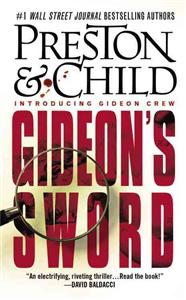 Nu kastar jag mig över en annan bok av Preston/Child som förhoppningsvis är lika spännande som böckerna om Agent Pendergast. Från Adlibris:
Introducing Gideon Crew: trickster, prodigy, master thief
GIDEON'S SWORD
At twelve, Gideon Crew witnessed his father, a world-class mathematician, accused of treason and gunned down.
At twenty-four, summoned to his dying mother's bedside, Gideon learned the truth: His father was framed and deliberately slaughtered. With her last breath, she begged her son to avenge him.
Now, with a new purpose in his life, Gideon crafts a one-time mission of vengeance, aimed at the perpetrator of his father's destruction. His plan is meticulous, spectacular, and successful.
But from the shadows, someone is watching. A very powerful someone, who is impressed by Gideon's special skills. Someone who has need of just such a renegade.
For Gideon, this operation may be only the beginning . . .